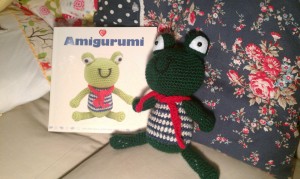 The biggest pleasure in crafting is the part where you flick through a craft book to find your next project. It is so much fun looking at all the possibilities and of course getting to look at lots of shiny pictures. But for my first Amigurumi project, where better to start, than on the project that sits welcoming on the front cover.
Making this frog involved learning some new techniques including getting to grips with the 'magic circle', and the need to keep your tension consistent. Otherwise you end up with about six feet all different sizes, as I did.
I don't think that I am particularly skilled at this Amigurumi malarkey. In particular because  this frog's eyes are a bit skew whiff and he's the oddest looking frog that I've ever seen. But I think he is oozing with charm and character. Obviously when an estate agent uses the phrase 'oozing with charm and character' you should steer well clear, but in the Amigurumi world I think this is an acceptable term to use. I would even go so far as the say that this little frog is in good decorative order and an early viewing is recommended.