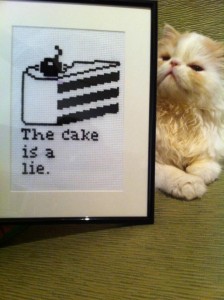 Our lovely friends are leaving London -boo. But essentially, in my head, by moving to Devon they WILL be living at River Cottage. Which makes me a) quite jealous and b) invite my self down to stay in the new year.
So, to send them something fitting to put in their new Kirstie Allsopp-esque farm house (again, this is all in my mind), I decided to make them a framed cross stitch pattern.
Here is their cat, Betsey, looking quite proud. So for me if it is a hit with the cat then I did OK.  I clearly deserve a slice of cake and a listen to Still Alive.